Digital drive helps ease the caseload for Legal Aid Queensland.
About
Industry:
Solution:
Legal Aid Queensland, is a Statutory Authority and the State's largest legal practice. They play a vital role in providing legal assistance to financially disadvantaged Queenslanders. The provision of legal advice and representation activities remains, by necessity, document intensive and paper heavy.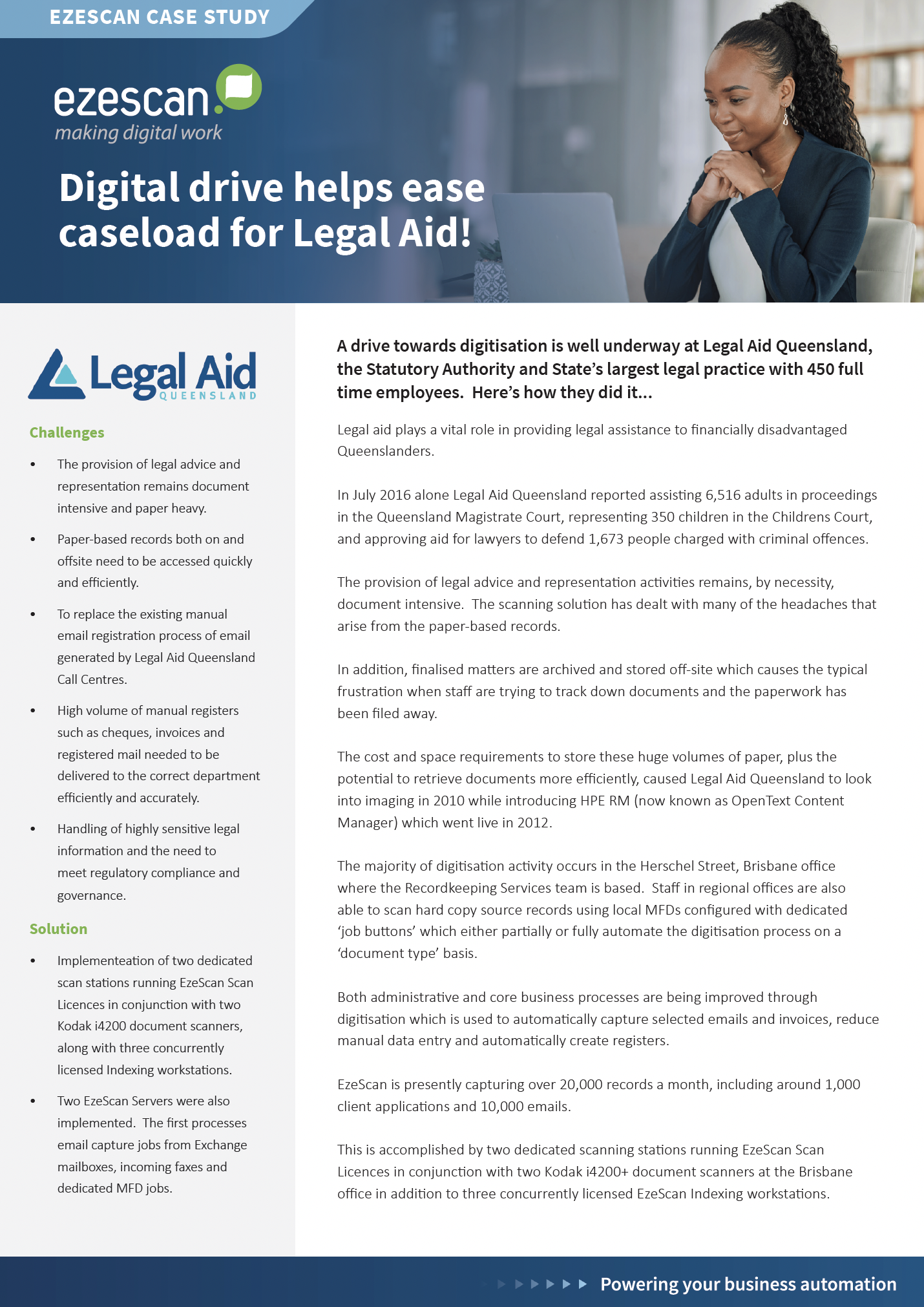 A drive towards digitisation is well underway at Legal Aid Queensland, the Statutory Authority and is in fact the State's largest legal practice that has 450 full time employees. Here's how they did it with the help of EzeScan...
Challenge:
Requirement to access paper-based records both on and offsite quickly and efficiently. To replace the existing manual email registration process of email generated by Legal Aid Queensland Call Centres. High volume of manual registers such as cheques, invoices and registered mail needed to be delivered to the correct department efficiently and accurately. Handling of highly sensitive legal information and the need to meet regulatory compliance and governance.
Solution:
They implemented two dedicated scan stations running EzeScan Scan Licences in conjunction with two Kodak i4200 document scanners, along with three concurrently licensed Indexing workstations. Two EzeScan Servers were also implemented. The first processes email capture jobs from Exchange mailboxes, incoming faxes and dedicated MFD jobs; while the second performs background PDF conversion and upload for manually indexed documents.
Results:
The EzeScan solution now captures over 20,000 records a month (including around 1,000 client applications and 10,000 emails)which through business automation are assigned to correct person and/or case file. Significantly reduced manual data entry and improved delivery efficiency and accuracy of data ensuring governance and compliance are meet.