Law firm Elkington and Fife create online filing system with EzeScan!
About
Industry:
Solution:
Elkington + Fife are a UK IP law firm who's main goal is to help clients attain an edge by offering high-quality legal services.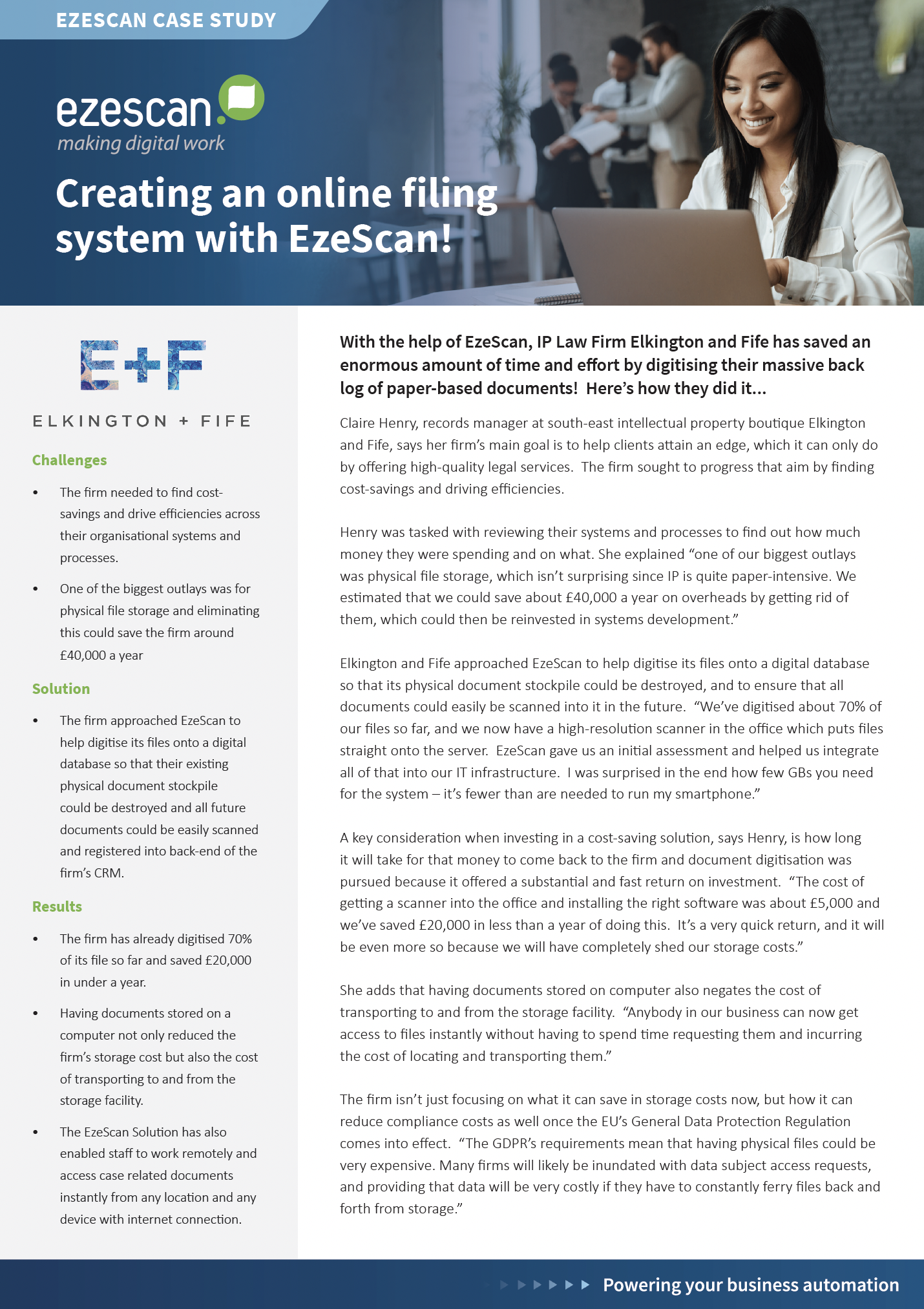 With the help of EzeScan, the firm has saved an enormous amount of time and effort by digitising their massive back log of paper-based documents! Here's why they did it...
Challenge:
The firm sought to achieve their goal by finding cost-savings and driving efficiencies across their organisational systems and processes. One of the biggest outlays was for physical file storage and eliminating this could save the firm around £40,000 a year.
Solution:
The firm approached EzeScan to help digitise its files onto a digital database so that their existing physical document stockpile could be destroyed and all future documents could be easily scanned and registered into back-end of the firm's CRM.
Results:
The firm has already digitised 70% of its file so far and saved £20,000 in under a year. Having documents stored on a computer not only reduced the firm's storage cost but also the cost of transporting to and from the storage facility. The EzeScan solution has also enabled staff to work remotely and access case related documents instantly from any location and any device with internet connection. The firm has saved an enormous amount of time and effort which has translated into higher quality service and has in return allowed staff to help their clients maker their business more competitive.
"Our project with EzeScan is also getting people ready for DMS technology by getting them used to a paper-light system, where filing is faster, documents are more accessible and collaboration is easier." - - Claire Henry, records manager at Elkington and Fife