EzeScan helps Donn & Co. cut document scanning time down by more than half!
About
Industry:
Solution:
Donn and Co are specialist property and probate lawyers who are responsible for scanning high volumes of case related documents on a daily basis.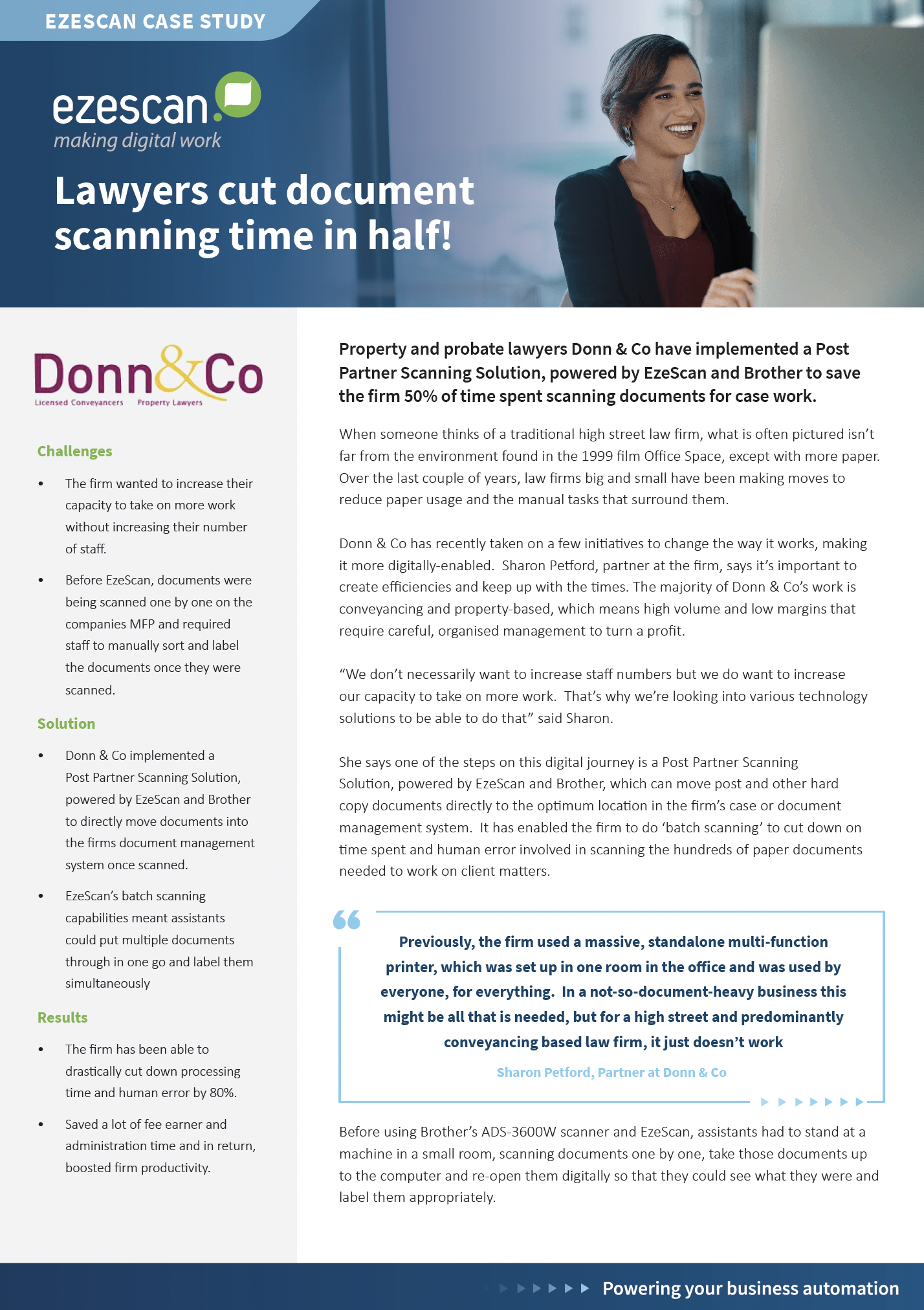 Property and probate lawyers Donn & Co. have implemented a Post Partner scanning solution, powered by EzeScan and Brother to save the firm 50% of time spent scanning documents for case work.
Challenge:
The firm wanted to increase their capacity to take on more work without increasing their number of staff. Before EzeScan, documents were being scanned one by one on the companies MFP and required staff to manually sort and label the documents once they were scanned.
Solution:
Donn & Co implemented a Post partner scanning solution, powered by EzeScan and Brother to directly move documents into the firms document management system once scanned. EzeScan's batch scanning capabilities meant assistants could put multiple documents through in one go and label them simultaneously.
Results:
The firm has been able to cut down processing time and human error by more than half, saving a lot of fee earner and administration time, and boosting firm productivity.
"The scanning solution is quick and reliable and we've not had any major issues so far. It's also very user-friendly - staff don't need an awful lot of training on it. It's self-explanatory and just takes a couple of clicks. Keeping staff happy is quite high on the firm's agenda - having an accurate and speedy scanning solution makes them more comfortable and will motivate them to work hard on more thought -challenging tasks". - Sharon Petford, partner at Donn & Co.