EzeScan gives Wollens Solicitors a fast, accurate and user-friendly solution!
About
Industry:
Solution:
Wollens Solicitors have grown into one of the largest solicitors in the south west of the United Kingdom, with over 150 employees positioned across three offices. As a result of their rapid company growth, the law firm struggled to keep up with the volume of paper within the business and needed to find a solution that would help improve efficiency and drive everything towards a digital process.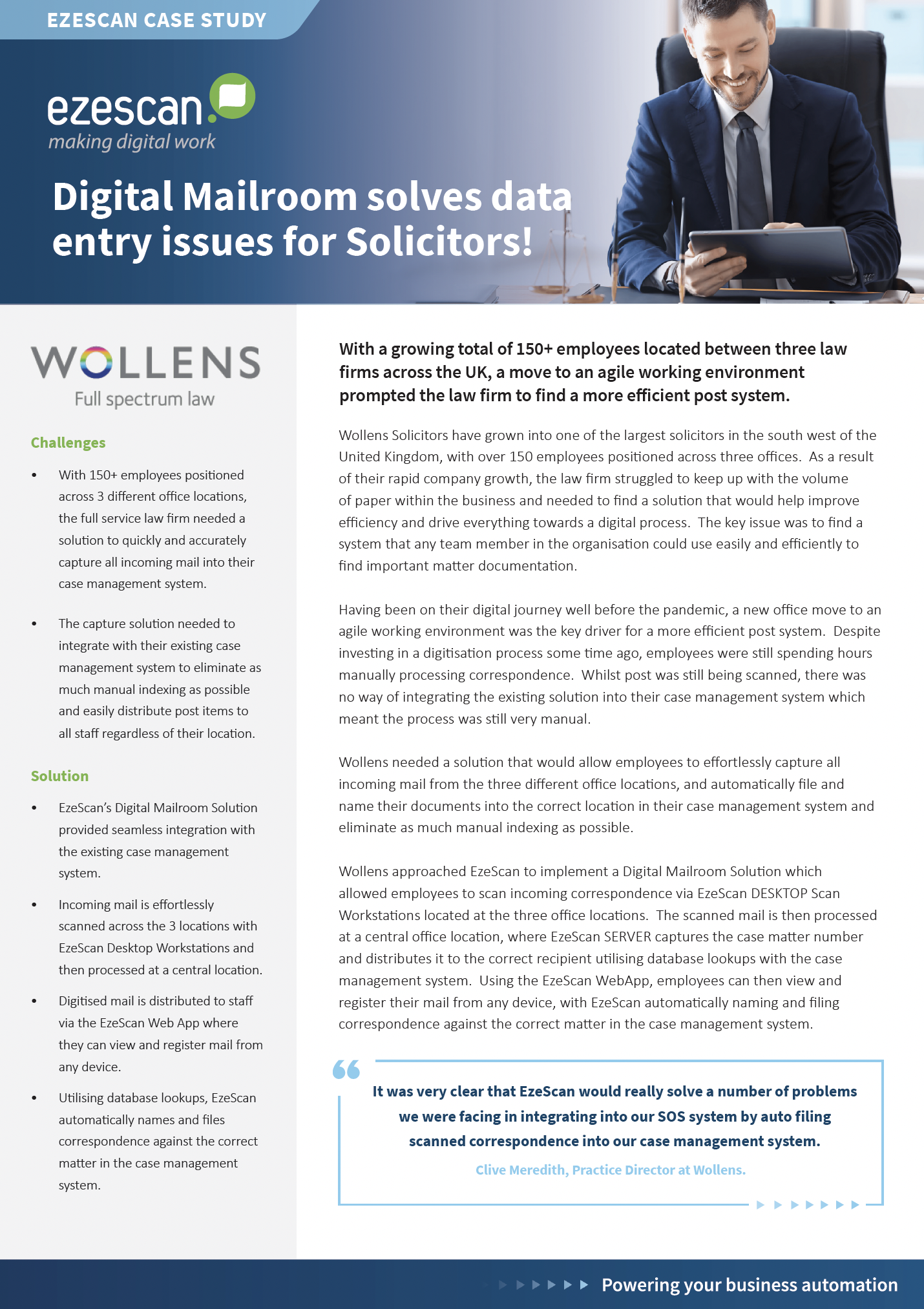 With a growing total of 150+ employees located between three (3) different law firms across the United Kingdom, a move to an agile working environment prompted the law firm to find a more efficient post system.
Challenge:
A new office move to an agile working environment was the key driver for a more efficient post system with employees spending hours manually processing correspondence. Wollens needed a solution that would allow employees to effortlessly capture all of the incoming mail from the 3 different office locations and automatically file and name their case management system and eliminate as much manual indexing as possible documents into the correct location in their document management system.
Solution:
Wollens implemented a digital mailroom solution which allowed employees to scan incoming correspondence which is processed at a central office location. EzeScan captures the case matter number and distributes it to the correct recipient utilising database lookups with the case management system. Employees can then view and register their mail from any device, with EzeScan automatically naming and filing it against the correct matter in the case management system.
Results:
The law firm has been able to identify the areas in their business that weren't working efficiently, particularly where staff were being consumed by paper. Additional benefits include the future proofing of delivery of mail items and reducing manual data entry. All staff have a view of their post for any given day, and access to it in a timely manner. The solution also provides the ability to easily route mail to another user if neede
"EzeScan is a very clever bit of kit and can actually grow with us as a business as well, so we've got future development plans with for it. We are now looking at using EzeScan to scan our invoices and actually post them onto the nominals for us. That's our next phase of development. It's a very flexible piece of kit and it's going to help us a lot and you know, really drive further efficiencies within our business." Clive Meredith, Practice Director at Wollens.